Reviews
Look inside
Audio sample

Track 06
Ukázky z učebnice Čeština expres 3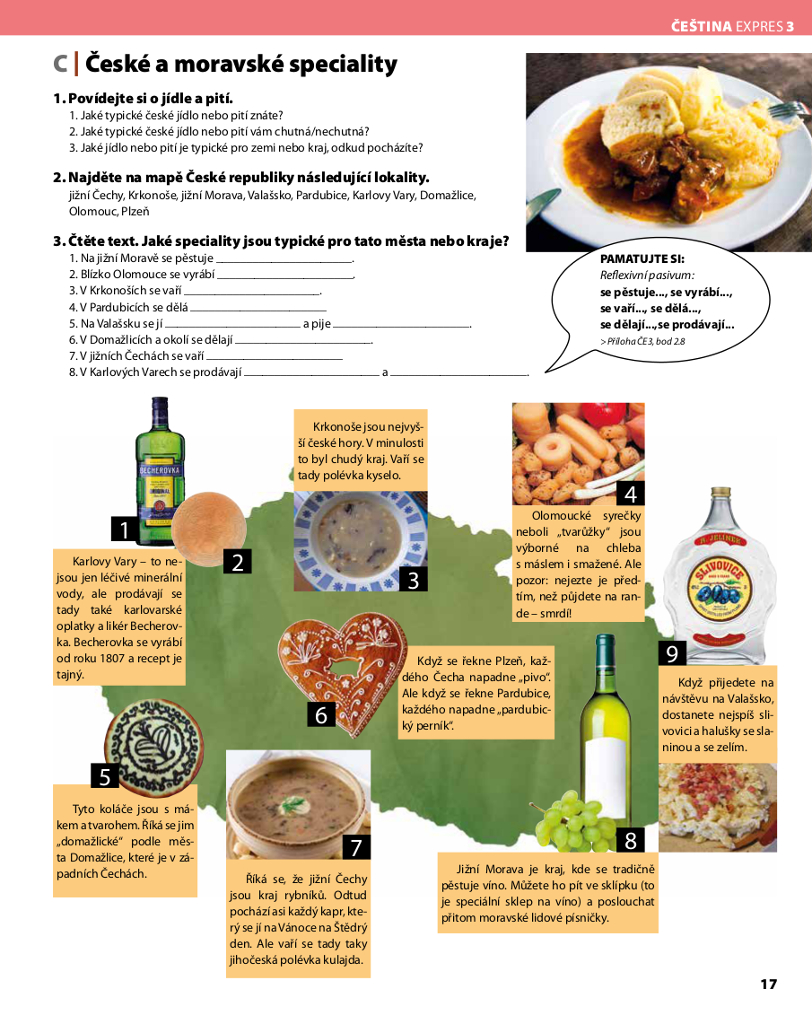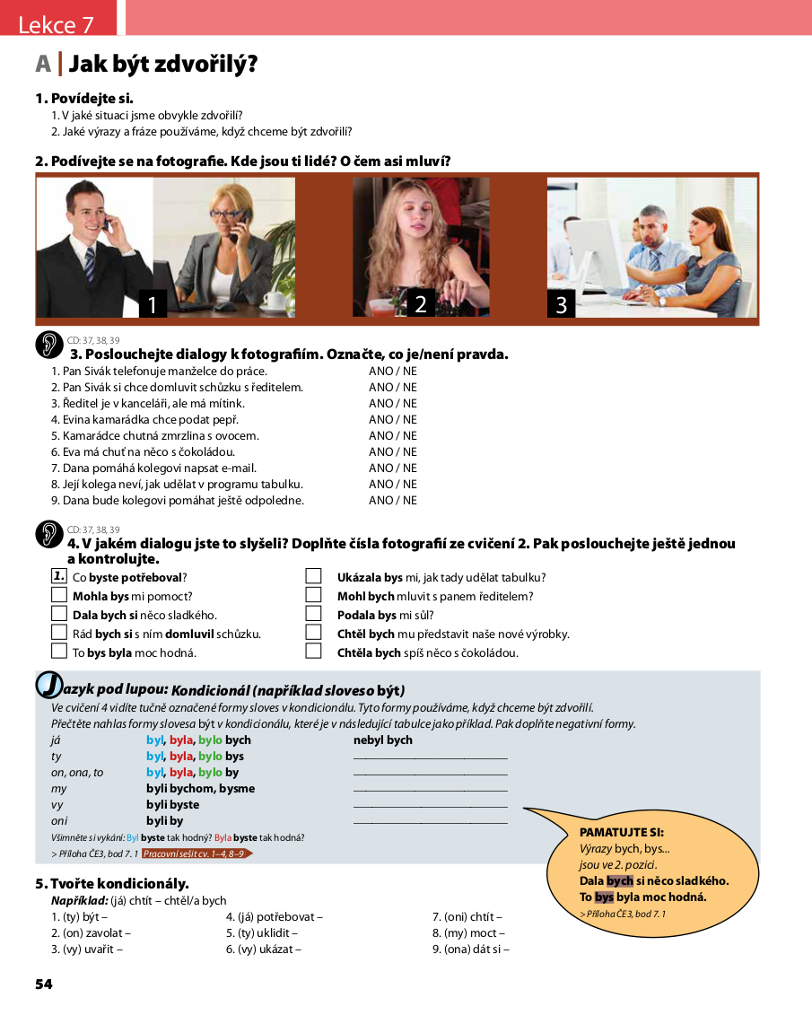 Čeština expres 3 (Level A2/1) is the third part of the four-part "Survival Czech" course, and is designed for students who have already mastered the basics of the language and want to achieve the A2 language level. It builds on the previous volumes and is thus suitable for a deeper introduction to the language, short-term courses and students of Czech as a Foreign Language living in the Czech Republic.
Read more
Read less
Author:
Lída Holá, Pavla Bořilová
Number of pages:
112 + 100 pages of appendix
Author:
Lída Holá, Pavla Bořilová
Number of pages:
112 + 100 pages of appendix
How can I purchase a printed publication?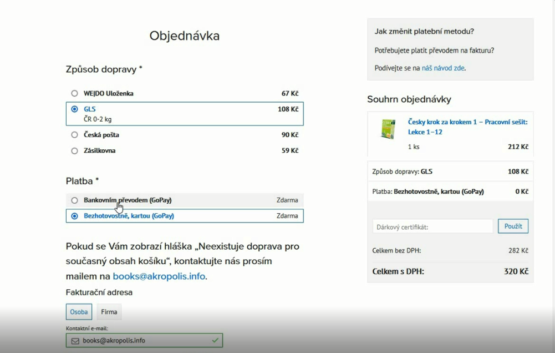 How to buy the e-version of the ISSUU publication?
How to use the Čeština expres coursebook on ISSUU?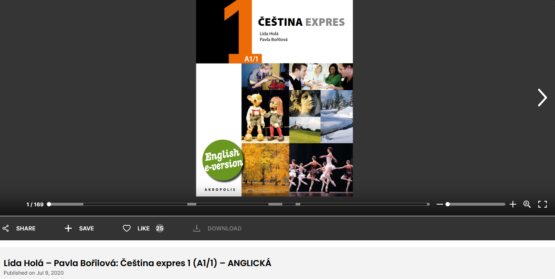 Frequently asked questions
Does Čeština expres 3 have a follow-up book?
How can I practise vocabulary in this book?
You can use the flashcards with vocabulary for each chapter. Each word or phrase are recorded for you to listen to.
How do Čeština expres and Česky krok za krokem differ?
The Čeština expres series cover essential communication topics. As the title suggests, they are suitable for students who want to make fast progress in a short time and be able to communicate in basic communication situations. We recommend it for short, intensive courses. It can be used in classes where the only language spoken is Czech.
On the contrary, the progress in Česky krok za krokem may be slower since it offers a wider range of vocabulary, texts, exercises and uses a more traditional and grammar-oriented teaching methodology.
See this table for more detail.
I am looking for something to read. Do you have something simple for A1 or A2 levels?
Yes, we do. You can have a look at the Adapted prose series. For A1 level we offer the popular book O pejskovi a kočičce (About doggie and pussycat), which is primarily for children but will definitely find readers among adults as well.
For the higher A2 level we offer these books.
Need help or advice? Contact us:
What teachers and students say about us
Od roku 1990 vyučuju český jazyk při Volkshochschule Regen. Za tuto dobu jsem měla již celou řadu učebnic. Za nejlepší v současné době považuju učebnici "Čeština expres".
Podle učebnic autorek Lídy Holé a Pavly Bořilové se moji studenti naučí opravdu komunikovat, domluvit se v reálných životních situacích. A já mám méně práce, protože na webu najdu spoustu doplňujících materiálů i přípravy na každou lekci.
Učebnice Lídy Holé a Pavly Bořilové považuji za to nejlepší, co je na trhu. V této době ale oceňuji hlavně jejich e-verze učebnic, které tak mohou snadno získat studenti v cizině. Hojně využívám i online cvičení a aktivity, které učebnice skvěle doplňují.
Podle učebnic Čeština expres učím již více než tři roky a jsou mně a mým studentům velmi dobrým pomocníkem. Při výběru učebnice mě zaujaly výborným grafickým zpracováním, přehledným  systémem i logickým řazením témat a gramatických jevů. Velmi oceňuji použití fotografií, poslechové texty i doplňková cvičení. Často využívám další materiály či se nechávám inspirovat dalšími materiály, které jsou k dispozici v manuálu pro učitele, či se jimi nechávám inspirovat. Učebnice řady Čeština expres jsou velmi dobrou volbou pro ty, kteří hledají zábavnou učebnici, chtějí učit/se učit aktuální jazyk a zároveň poznat něco ze specifik České republiky.

"Expresky" mě jako lektorku velmi baví. Dokážu je se studenty využít na sto procent a skutečně "vyždímat" do posledního cvičení a slova, což mi zatím jiné učebnice neumožnily. Skvěle uvozují důležitá konverzační témata a obsahují názorné fotografie, kolem kterých se dá dobře diskutovat. V neposlední řadě se mi líbí dialogy, které jsou psané v reálném jazyce, a přestože působí jednoduše, obsahují dostatečné množství praktických frází.
Учебники Čeština expres 1–4 и Česky krok za krokem 1–2 хорошо сбалансированы: динамичные, развивают  все необходимые навыки, учат вещам, которые студенты действительно смогут использовать в реальной жизни. Мне, как учителю, работать с ними одно удовольствие, т.к. на сайте представлены готовые планы уроков с множеством дополнительных заданий, активит и игр.
The book is very good for learning at home, the free downloads on the website are efficiently helping the individual learning. Easy to understand for beginners.
Používám učebnice Čeština expres, mají výbornou metodiku, za kterou moc děkuji! Ušetří učitelům mnoho času při přípravách na hodinu. Studentům se nejvíce líbí komiksy či hry typu kvarteto, karty či jiné aktivity, u kterých "zapomenou", že se při nich učí.