Here you will find answers to the most common questions about the platforms through which we make electronic versions of our textbooks available.
What is PUBLI?
Publi is a Czech cloud platform, which makes available mBooks. These are fully interactive, so it is possible to work in them just like in an application. Books published in this way are available in the Publi Reader, which is available for most operating systems – Windows, Android, iOS and macOS – as well as for work off-line. You can find out more about mBook functions here: https://publi.cz/en/mkniha/
What is ISSUU?
ISSUU is an online streamed PDF. It cannot be printed, but thanks to the versatility of the HTML5 format, it can be accessed practically anywhere: in any web browser on a Windows PC or Mac* or in the application on Android or iOS devices on your cell phone or tablet. The files we have made available are enriched with dual navigation (internal and external), which makes working with our textbooks more pleasant and intuitive, and also easier.
It is necessary to be connected to the Internet to use the on-line version. The Issuu mobile app (on both iOS and Android) will be permanently retired on April 17, 2023).
How does navigating in ISSUU e-versions work?
1. Internal navigation allows you to navigate the site:
– You can click on the contents of the textbook and the link will take you to the different chapters:
– the symbol of a house at the bottom of the page will take you back to the textbook contents
– you can follow the links to individual parts of a unit from each unit's introductory page
– Click on the pink page number to go to the glossary for the page:
– Click on pink highlighted links in bubbles and tables to go to the Appendix and summary tables: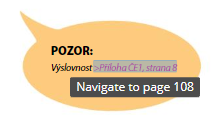 – unit sections marked A, B, C, etc. allow you to click through to the corresponding parts of the Workbook (only for Čeština expres)

2. External navigation leads to other online materials:
– allows you to play audio recordings
After clicking on the track number or the ear symbol, a nested video will appear (also separately accessible on our YouTube playlist profile here). Additionally, you can also download all recordings as MP3 files directly from our website.
– the computer symbol with the exercise number refers to the online exercises that practice the subject matter (available separately here)

– the letter T symbol leads to progress tests, which review the material of that unit (separately accessible as part of the online practice)
– the letter F symbol gives access to online flashcards, reviewing new vocabulary on each page of the unit (only for Čeština expres 1–3, separately accessible here)
How can I purchase the ISSUU e-versions of textbooks?
There are three options for gaining access to the textbooks:
a) Go to https://eshop.czechstepbystep.cz/en, choose a textbook and click on its e-version. Then click BUY. (Attention, the ADD TO CART button is for the printed version. For the e-version, click the green BUY button.)
b) Go to https://www.czechstepbystep.cz/en/books, choose a textbook and click on it, e.g. https://www.czechstepbystep.cz/en/detail-ucebnice/ce1. Then click on the button for the e-version of the textbook and click BUY. If there is no e-version button, then the particular textbook or language version does not have an e-version, such as the Adapted prose series.
c) Go to issuu.com and enter the textbook title in the search bar. Choose the language version of the textbook you want and click BUY.
2. Clicking on the BUY button takes you from the e-shop to the ISSUU website, where you can pay for the book. Here, enter your e-mail address and credit card details. (Attention: you can only pay by card, other forms of payment are not accepted.) Click to accept the I ACCEPT THE TERMS OF SERVICE. Then click again on SIGN UP & BUY. This completes your payment.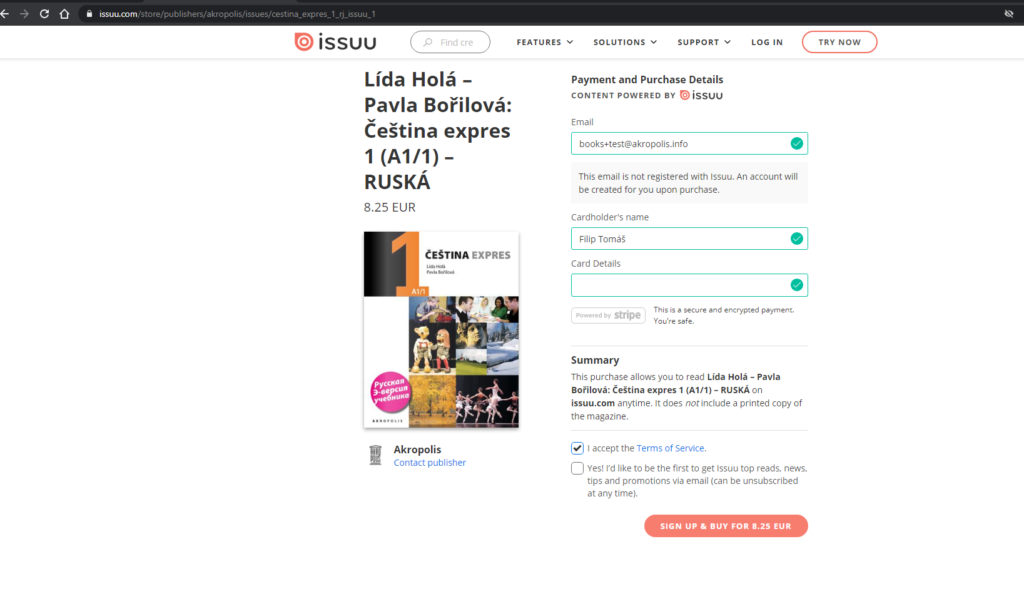 3. You will then need to confirm your ISSUU account in the e-mail that should have arrived in your e-mail's inbox (make sure you check your spam!). Click on CLAIM ACCOUNT and enter your password in the appropriate boxes in the new window. Then reconfirm your login in the following e-mail. After that, you will see DONE. Clicking on it will log you into your ISSUU account, which you will then be able to use repeatedly for additional purchases.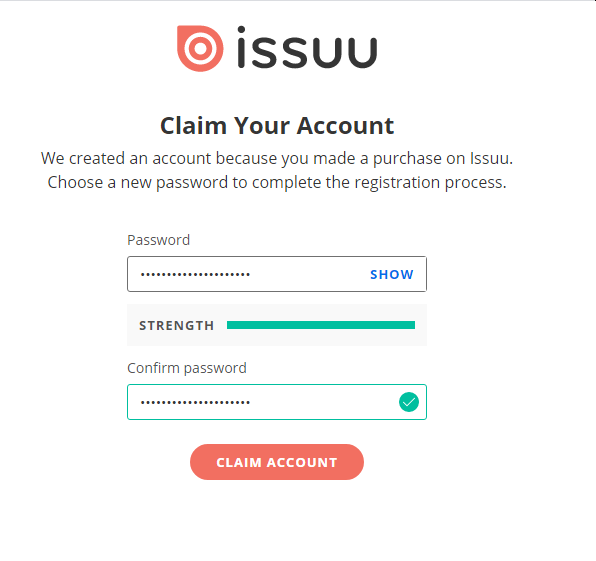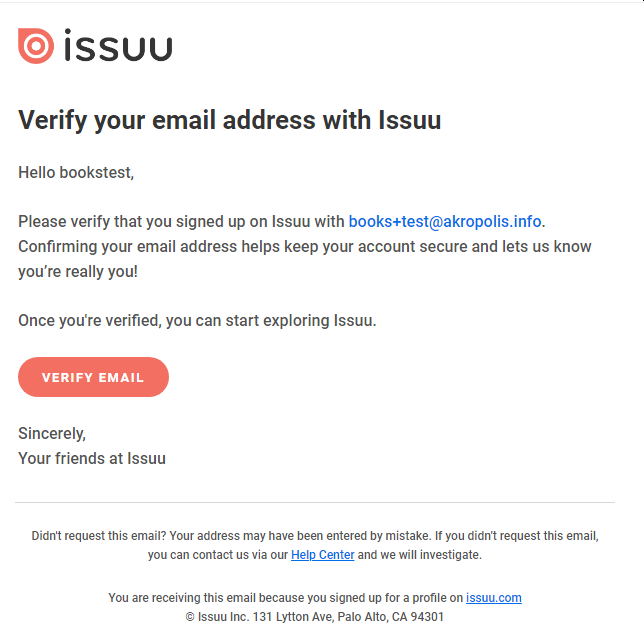 4. In your ISSUU account, you will find purchased content under READ (top right). If you hover over it, you should then see Purchases. Use this to open the textbook and use it as you are used to doing.
How can I use free access code in ISSUU?
I have a free access code from you or my school to get the e-version of a textbook, what should I do?
Click on the link with the code, it looks like this https://issuu.com/store/code/12345678. If this is your first contact with ISSUU, enter the e-mail address you want to use to create an account with ISSUU. (Make sure you enter your e-mail address correctly. To activate your ISSUU account, you will have to confirm the e-mail address you entered using the link from the e-mail delivered to your inbox.) If you already have an ISSUU account, log into it by clicking Sign in.
fter entering your email, check I accept the Terms of Service and click on the red REDEEM PUBLICATION in the bottom right corner.
A thank you page will appear.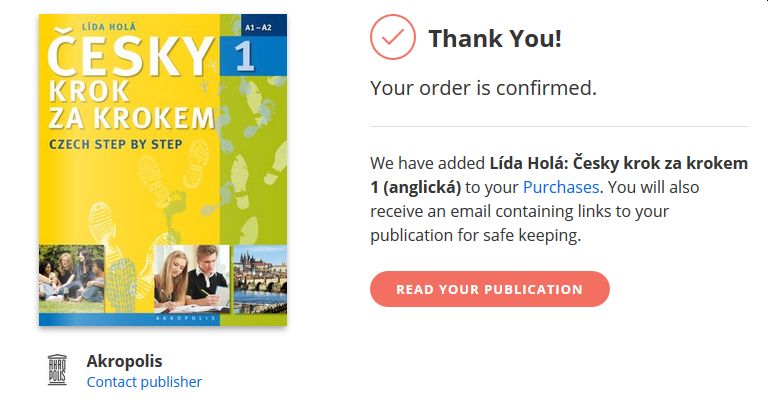 You can continue to the textbook in READ ON ISSUU. You will then find the textbook in your purchased content (READ / Purchases) the next time you log into your ISSUU account.
If you follow the instructions, but clicking on the address with the code takes you to an error screen,

this means that the code has already been used by someone else. If you previously redeemed the code, it's possible that you did so using a different e-mail address. Try logging into your ISSUU account using that address. The codes are unique and the code used cannot be transferred to another user or to another e-mail address. If that happens, a new code will have to be ordered. In this case, contact us at . Instructions in English can be found here.
FAQs – Frequently Asked Questions
How much does the e-version of the textbook cost?
We have chosen a simple pricing policy: the e-versions of our textbooks cost exactly half the price of the printed ones. The payment is a one-time payment and access to the content is "lifetime", i.e. as long as you keep the ISSUU account.
Čeština expres START = 5,99 € per licence
Čeština expres = 9,07 € per licence
Česky krok za krokem 1 = 14,41 € per licence
Pracovní sešit (Workbook) of Česky krok za krokem 1 (7,19 €) or Česky krok za krokem 2 (6,16 €) per licence
Pracovní sešit (Workbook) of Česky krok za krokem 1 = 249 CZK per licence (PUBLI)
Česky krok za krokem 2 = 17,50 € per licence

The PUBLI e-version costs the same as the printed version, we believe it provides a full alternative to print.
We list prices for ISSUU in Euros because prices on ISSUU are listed in that currency. The price in the PUBLI library is in Czech crowns. Most major cards are accepted for payment*.
We would like to buy access for our entire course. Do you provide any discounts?
Yes, for bulk orders we are happy to provide additional discounts, as we do with printed textbooks. A bulk order can be paid for in Czech crowns via bank transfer. The specific discount depends on whether the order will be for printed textbooks and their e-versions at the same time, or only for e-versions of textbooks. For orders of more than 5 copies or e-licenses, we offer a volume discount – please contact us at .
Do I have to pay for an ISSUU or PUBLI account?
No, you do not. Customer account registration is free and you just need to verify your e-mail address. You do need to pay to add our textbooks to your account. This is similar to e-book readers and the content you put on them. Payments can only be made by credit and debit cards.
Which textbooks already have an e-version?
The following e-versions of our textbooks are currently available:
Will you make all textbooks accessible this way?
We are not planning on any other language versions in the near future. We believe that online teaching needs will be sufficiently covered by the English and Russian language versions.
Can I print the pages?
No, it is not possible to print the pages of the e-versions.
Can I download the textbook into my computer, as a PDF file for example? 
The answer to this question depends on the platform: With the interactive mBooks on PUBLI you can fully download the content into the Reader (application) and then also work completely off-line. The on-line stream form of the book in ISSUU, however, cannot be downloaded. It must be used in your ISSUU account (on-line).
How many devices can I use the e-version on?
With ISSUU publications, you have unlimited sign-ins. When you purchase a PUBLI e-version, you automatically get licenses for 2 devices (typically a computer/tablet or mobile phone). If you want to use the PUBLI e-version on more devices, you will have to purchase another license.
Can I write in my textbook?
Unfortunately, you cannot do this. Such interactivity would require much more complex programming than we have The answer to this question depends on the platform: You can write in or fully use interactive elements in mBooks on PUBLI wherever this functionality is available. With ISSUU, unfortunately, you cannot. Here you are viewing a PDF file in a web browser. However, during online lessons, for example in Zoom, it is possible to write down what you need (e.g. the correct answers to an exercise).
In what commonly available communication channels (programs, environments) can I use the e-versions?
Teachers can display their e-versions through various communication channels (e.g. Zoom, Skype, Google Meet, MS Teams, TeamViewer…). However, each student should have their own textbook, either printed or e-version. Please respect copyrights to allow us to create more materials for teaching Czech.
The PUBLI library is mainly meant for individual use in the application with the same name, the PUBLI Reader.
Can I lend or make my e-version available to other users?
No, that's not possible. Both ISSUU or PUBLI e-versions include protections against copying or illegal sharing that can easily be detected. Purchased content is always unique to the end user. In case of misuse, the publisher and/or ISSUU or PUBLI reserve the right to cancel a customer account without compensation.
I cannot sign into my ISSUU account, what should I do?
Try requesting a password reset by clicking I don't remember my password below the login form. If you do not get the e-mail, please check your Spam folder.
I don't see the ISSUU page at all, the browser says that access is blocked. What should I do?
Unfortunately, our users have recently encountered geoblock in some countries. We believe that the situation will not be long-term and recommend users to use tools such as VPN. We also recommend testing the functionality and accessibility of the ISSUU account by setting it up before actually purchasing the product.
Do you need more information?
You can find more information in the ISSUU help manual or on the PUBLI FAQ section of its website, or do not hesitate to contact us at .