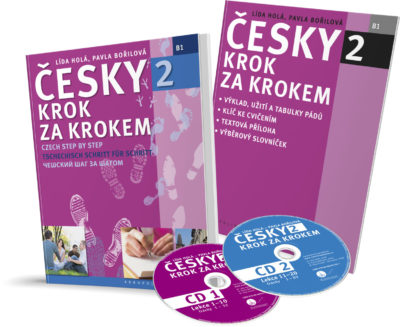 Author:
Lída Holá, Pavla Bořilová
Number of pages:
208 + 4 pages of Appendix and 84 pages + 8 pages of Česká gramatika v kostce 2
Set includes:
textbook
appendix
extended Grammar in a nutshell
2 × audio CD
Frequently asked questions
How can I practise grammar, vocabulary and texts in this book?
Will Česky krok za krokem 2 have a follow-up book?
Yes, we are working on Česky krok za krokem 3 but we need some time 🙂 Writing and publishing a textbook is always demanding.
Who is Česky krok za krokem 2 for?
This book is for students who want to achieve B1 level. It can be used after finishing Česky krok za krokem 1 or Čeština expres 1-4 series.
I am looking for something to read on B1 level. Can you recommend a book?
Yes, you can have a look at the Adapted prose series. For B1 level, we offer XXX and XXX.
Potřebujete pomoc či poradit? Kontaktujte nás:
What teachers and students say about us

I have tried just about every Czech textbook out there, and Cesky Krok za Krokem 2 without a doubt outshines them all. Clear grammar explanations, authentic exercises and engaging themes all come together in this exploration of the Czech language. I especially appreciate that it provides exercises that engage all four skills of reading, writing, listening and speaking. It is simply the best Czech language textbook on the market.
Momentálně na univerzitě používám Česky krok za krokem 2 a velice se mi líbí tematika knihy a to, že kniha zdůrazňuje i malé gramatické a slovní zajímavosti a triky a nezanedbává výuku obecné češtiny. Je to zábavná kniha.
Учебники Čeština expres 1–4 и Česky krok za krokem 1–2 хорошо сбалансированы: динамичные, развивают  все необходимые навыки, учат вещам, которые студенты действительно смогут использовать в реальной жизни. Мне, как учителю, работать с ними одно удовольствие, т.к. на сайте представлены готовые планы уроков с множеством дополнительных заданий, активит и игр.
Podle učebnic autorek Lídy Holé a Pavly Bořilové se moji studenti naučí opravdu komunikovat, domluvit se v reálných životních situacích. A já mám méně práce, protože na webu najdu spoustu doplňujících materiálů i přípravy na každou lekci.
Na učebnici se se mi líbí všechno! Každý krok!